Differentiating With Action
Action offers powerful differentiation tools that will help you reach every learner: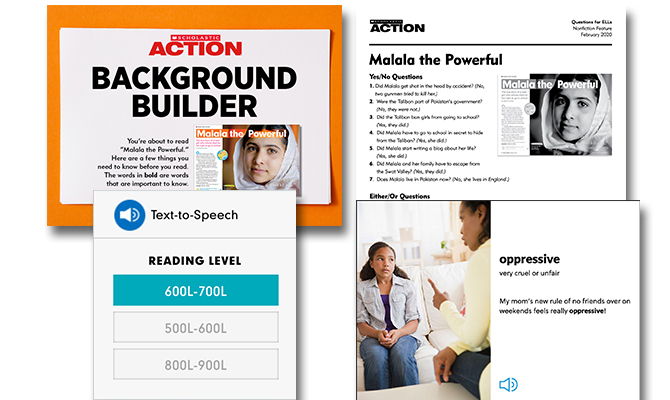 Articles on Three Reading Levels
Our leveled texts allow you to not only meet your students where they are to start, but also to provide them with reach or challenge texts—which will help them grow throughout the year. In addition to our middle-level texts, which appear in the print student edition each month and are typically in the 600-800 Lexile range, you can also access lower-level texts (400-600L) and higher-level texts (800-1000L) at Action Digital.
Audio With Text-to-Speech
This indispensable tool, which is available in our presentation view, allows students to follow along while our editors read stories aloud and each word is highlighted as it is spoken. Project each article for the whole class as a shared read-aloud experience—or encourage students to read independently with headphones—to build fluency, comprehension, and word recognition.  
Vocabulary Slideshows
Background Builder Slideshows
Available with our Nonfiction Features, this slideshow is like a starter level for your lowest-level readers, or just a great knowledge-building tool for all students in your classroom. It pairs simple bullets with engaging visuals to introduce the background needed to set up the story and aid in comprehension.
Scaffolded Activities
Many of Action's Skill Builder activities come on two levels: one with more scaffolding and one with less. Use them to help students progress with skills such as writing, sequencing, and central idea and details.
English Language Learner Support
In addition to all of the valuable tools above, we can also help you further specialize instruction for multilingual learners. Every issue contains differentiation tips for this audience (located at the end of each Lesson Plan in the Teacher's Guide), as well as additional Questions for Multilingual Learners (available to download on your issue page). Find out more about our Multilingual Learners Support here.